Contact Us
National hotline:
86-13801428918 86-13952642586
Contact:Xia Shaigen
Phone:86-13801428918
Contact:Yin Yumin
Phone:86-13952642586
Tel:0086-523-84691028
Fax:0086-523-84691638
Add:No.88, Gongnong East Road, Jingjiang City, Jiangsu Province, China
Your current position :
Home
>> After finish machine series
SS series dehydration machine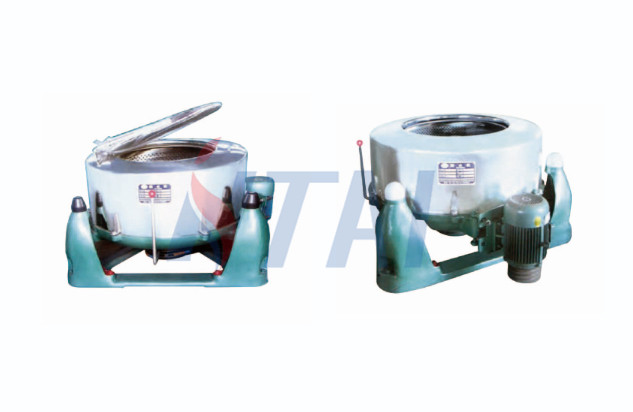 The machine is tilting three-foot overhang, to avoid the load imbalance within the drum make the ground vibration when running.
The housing and the top cover are made of stainless steel,the chassis is made of cast iron,outlet pipe is below the chassis,the foot base and column are made of cast iron.
The spindle is made of high quality steel,equipped with two bearings,lower end thrust ball bearing support,in order to reduce the wear and save power.
The run drum is made of copper or stainless steel plate punching,cage base is made of cast iron,also lining stainless steel bottom cover.The run drum installed in the upper end of the spindle cone,to ensure smooth running.
The machine adopts an independent motor by the triangle belt transmission,install centrifugal starting flange.It can make the machine slowly starting, the braking efficiency is high, the drum to quickly stop,and also can avoid resistance due to the spindle brake.
Technical parameter
| | | | |
| --- | --- | --- | --- |
| Model | Motor power (KW) | Roller diameter | Dimension(mm) |
| SS752-Φ500 | 1.5 | Φ500 | Φ950*650 |
| SS752-Φ600 | 2.2 | Φ600 | Φ1000*750 |
| SS753-Φ800 | 4.0 | Φ800 | Φ1400*820 |
| SS751-Φ1000 | 5.5 | Φ1000 | Φ1720*840 |
| SS754-Φ1200 | 7.5 | Φ1200 | Φ1920*935 |
| SME301-Φ1500 | 8-10 | Φ1500 | 2500*1950*1400 |
★Large capacity,high dehydration rate..
★Low vibration and noise.
★Easy to operate.
★It can be used petrochemical industry,textile,hotel,hospital, bathroom and etc.
If the listed specification has any changes,our company has right to modify without notification at any time.
[上一个: HJ-6 stenter sizing machine]
[下一个: SWA series drying machine]